Fax:+86 371-67993277
Tel: +86 371-67991755
Sales direct: +86 15838331071
E-mail:sales@battemachinery.com
24h services
Quick change volumetric screw feeder
Highly accurate
quick change volumetric screw feeder
was specially designed for production lines that have frequent material changes. The features and components of volumetric screw feeder are the best proof.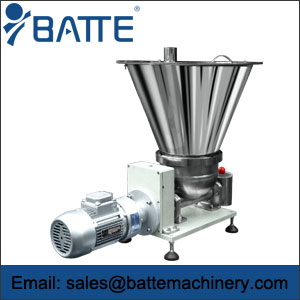 Quick change volumetric screw feeder Features:
Flex Feed Hopper with 5 Year Warranty
External AC Motor(s) and Reducer(s)
Tool-Less Disassembly
Easy Clean Design
Quick change volumetric screw feeder Components:
Flex Feed Hopper with Discharge Opening
Slide gate or UHMW plug
Gates Poly Chain Drive
Quick Disconnect Auger and Feed Tube
3-Sided Agitation promotes first in / first out material flow
The molded opening design in the bottom of the Flex Feed hopper means no more scooping material out of the system during change over. This highly accurate volumetric screw feeder system allows you to simply open the manual discharge slide gate, switch the control into Clean-Out mode to activate the paddle agitation, emptying the system in seconds. Ask about the highly accurate Quick Change Volumetric Screw Feeder to save time and money.
©2015 Batte Mechanical Zhengzhou Co,.Ltd. All rights reserved. 
sales@battemachinery.com
Batte is a
loss in weight feeder manufacturer
, supplying
loss in weight feeder
,
volumetric feeders
, and
metering feeders
.