Fax:+86 371-67993277
Tel: +86 371-67991755
Sales direct: +86 15838331071
E-mail:sales@battemachinery.com
24h services
Volumetric Screw Feeder
Highly accurate
volumetric screw feeder
features, components, and other details are introduced as follows. This accurate screw feeder is designed to offer a wide range of feed rates (up to 900 cu/ft/hr).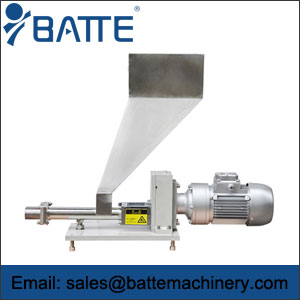 Volumetric Screw Feeder Features:
Flex Feed Hopper Screw Feeder
AC or DC Motors
Tool-Less Disassembly
Easy Clean Design
Automatic Chain Drive Tensioner
Volumetric Screw Feeder Components:
Flex Feed Hopper with 5 Year Warranty
Cartridge Bearing assembly (Standard)
Quick Disconnect Auger and Feed Tube
This popular line of screw feeders is available in three different sizes: the series 5 is the smallest with a 0.5 cubic foot capacity, the series 12 offers a 1.2 cubic foot capacity and the series 28 is the largest with 2.8 cubic feet. With typical applications, this volumetric screw feeder provides approximately 2-3% accuracy given consistent material bulk density and flow characteristics. The durable urethane flexible hopper and external massaging paddle agitation allows even the most difficult materials to be feed with ease. This accurate screw feeder features easy disassembly, which can be done in minutes and without tools.
©2015 Batte Mechanical Zhengzhou Co,.Ltd. All rights reserved. 
sales@battemachinery.com
Batte is a
loss in weight feeder manufacturer
, supplying
loss in weight feeder
,
volumetric feeders
, and
metering feeders
.